Premier business consultant, highly sought after speaker, and personal breakthrough coach, A.J. Puedan, truly touches the lives of each individual he encounters. Beginning with the early influence of his father, a championship runner in the Philippines, A.J. has been implementing a positive mindset since the early age of 4 and teaches others to do the same. Throughout his life, he saw other people with hearts of gold doing whatever it took to achieve extraordinary things without compromising the integrity of their character. This dispels the mantra that good guys finish last. Being a self-professed "underdog" in his past, A.J. decided he wanted to see good people win. He prides himself on teaching others how to succeed and win in any circumstance.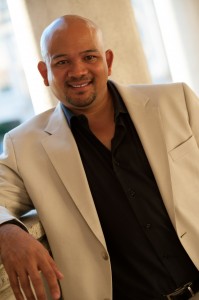 A.J. has been in the business of changing lives for 25 years. He began working with many well-known published entrepreneurs, and has assisted others in starting businesses since the young age of 14 years old. He has produced over 43 programs on personal, business development, success coaching, as well as hypnosis and influence.  A.J. has been chairman of "The Winner's Circle" Mastermind group in Tampa, FL for two years in a row and has been awarded Speaker Trainer of the Year for both "The Winner's Circle" and "The JV Super Conference". On an individual basis he has repeatedly earned over One Million Dollars in revenue over the short space of a year, and has found much joy in creating many millionaires along the way with his "Three Rounds to Success" coaching, seminars, and hypnosis practice.
Comparing business to a 12 round boxing match, when a new boxer can get through the first three rounds they are considered a true contender. A.J. has seen more people get out of business before they can even get in, because they never make through the first three rounds. A.J.'s specialty is getting people through these critical first three rounds to be a true contender. He also takes established companies through the "3 Rounds Live" boot camp when their business is stagnant and needs to be advanced to the next level. A.J. is a strategic planner, creating a superior process and action plan for business owners to follow to ensure that their venture is profitable. He often receives referrals for difficult cases; amid those are cases that other coaches have turned away. A.J. welcomes the opportunity to put his expertise to the test and enjoys getting others through roadblocks and challenges that seem impossible. These personal breakthroughs are one of the many reasons 80% of A.J.'s clients are clients for life.
Aside from the business World, A.J. is a proud father of 4-year-old twins and a loving husband. He enjoys martial arts and ballroom dancing, two practices that take an incredible amount of discipline and hard work to master. In his past he worked as a magician on a cruise ship. What the world may typically view as impossible, the magician and the hypnotist see merely as a process. A.J. uses this same philosophy as an underlying premise in all of his career objectives. Taking this into consideration, he provides clients with strategic plans, coupled with the confidence to take action. A.J. emphasizes the importance of a positive mindset and consistently pushes clients to achieve their desired results regardless of circumstance.
Despite what one may conclude, A.J. is typically shy and reserved by nature.  However, he lives a very dynamic life with dynamic results and continually pushes himself out of his comfort zone successfully with the strategies he implements. Public speaking did not come naturally to A.J. either, and he had to work tirelessly to get where he is today.  Since A.J. understands the evolutionary process of business and life and knows it doesn't come easily, he can relate well to his clients along the way. A.J. has been said to have the most heart, sincerity, and integrity of any seminar speaker by many of his loyal clients. It is these characteristics that make him very approachable to everyone he encounters. Not only is it important to A.J. that his clients succeed in all business endeavors, it is equally important that they experience victory in all areas of their lives.
With this being said, A.J. has been known as the Seminar Yoda and Kato, the Green Hornet's sidekick who is considered a superhero to the superheroes. He understands well, the philosophy that we each need someone in our corner guiding and cheering us on. When A.J. is not on the stage, you will find him on the sidelines avidly supporting the endeavors of his clients.